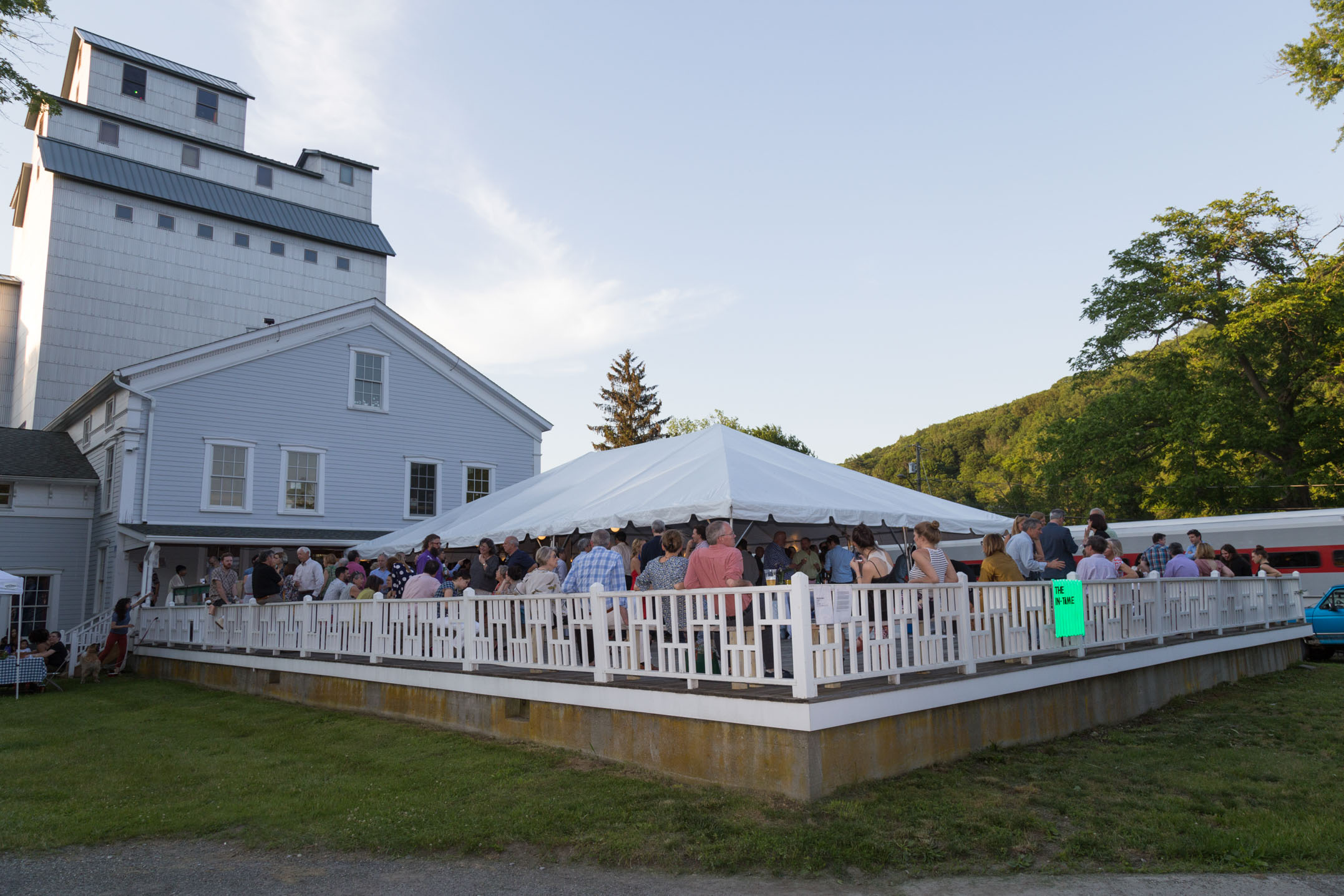 This year's Summer Benefit honors two of our founding funders, Tony Zunino and Dick Berry, visionaries who have believed in the Wassaic Project since day one. In 2005, Maxon Mills was about to be torn down. Recognizing the value of this historic Wassaic landmark, Tony and Dick purchased the building and set about restoring it. Three years later, we held our first Summer Festival in and around the newly renovated mill. In the 11 years since, every festival, every exhibition, every residency, and every weekend in the Art Nest has stemmed from Tony and Dick's incomparable generosity. In the coming year, we're slated to purchase our buildings from Tony and Dick, and in honoring them, this event is both a celebration of our beginnings as well demonstrating our commitment to this community for the future.

Join us in raising a toast to them this June. Explore our 2019 Summer Exhibition, Ad Astra Per Aspera, win art prizes in our Art Darts raffle, and sample craft beer, cocktails, and food courtesy of Trough Catering.

Tickets
General Admission Ticket
$250 per ticket

Buddy Package
$850 for a package of 4 tickets

Benefactor Ticket
$500 per ticket showing admiration and support for Tony Zunino and Richard Berry

Underwriter Recognition
$3,500, comes with recognition on our website, 8 tickets, and a champagne welcome for you and your guests

Miscellaneous
Tickets at the door are $300. Advance tickets are also available to purchase by check. Please make checks payable to Wassaic Project with "Summer Benefit Tickets" in the memo line and mail to:
Wassaic Project
PO Box 220
Wassaic, NY 12592
The Wassaic Project is a 501(c)(3) organization. All donations less $25 per ticket are considered tax-deductible to the fullest extent provided by law.
Cost
$250 per ticket, general admission
When
Saturday, June 15, 2019
5:00 PM to 8:00PM
Where
Maxon Mills
37 Furnace Bank Road
Wassaic, NY 12592
Summer Benefit Underwriters
Dick Berry & Lucy Commoner*
Debbie Cooper & Dan Sternberg*
Helen & Kenneth Cowin
Robyn & David Rosenberg*
Tom & Deban Flexner
Agnes Gund
Heather & John Holmes
Janet* & David Offensend
Coco & Tim Quinlan
Matthew Schnepf & Munawar Ahmed*
Silo Ridge & Stoneleaf Construction
Stardust
Taylor Oil & Taylor Propane
Karen Zukowski* & David Diamond
Sally & Tony Zunino
Summer Benefit Commitee Members
Sarah Bacon
James Barron
Peter Busby & Bente Dahl-Busby
Mara & Jesse Carrier
Genevieve Christy*
Carl D'Alvia & Jackie Saccoccio
Chrissy & Matt Dilley
Jennifer Dowley*
Stancy DuHamel & Carolyn Handler
Jillian Dunham* & Michael Welt
Adam Eckstrom & Lauren Was
Christine Elia & Eric Simon
Tealia Ellis Ritter & David Ritter
Krista Fragos & James Snyder
Kara* & Simon Gerson
Jack & Linda* Gregory
Jeila Gueramian* & Scott Anderson*
Jeanne Gutierrez*
Suzanne Hader* & Mike Johns
Johnson Henshaw & Michael Masterson
Julia & Jeff Kivitz
Caroline & Jason Klein
Karen & John Klopp
Torrie & Doug Larson
Michael & Laurence Levin
John & Louise Lewis
Joan & Robert McGuire
Valerie McLaughlin
Linda Mevorach & John Rockwell
Bridget Potter
Eric Roberts
Patricia Rowell
Kate Stiassni & Ned Nunes
Alex Tuller & Dean Temple, Drake Creative
Britt & Damian Zunino
*Wassaic Project Board Member